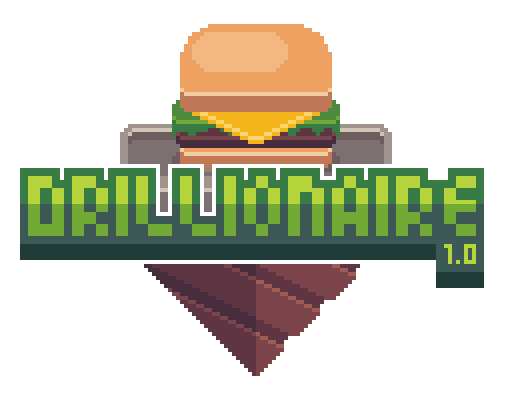 Drillionaire
It's Drillionaire One!!! This update comes with long list of new things, balancing, and bug fixes.
Drill
Massive price reduction for endgame parts, upgrades.
Improve coal grabber, magnet (prevent item from slipping upward)
Increase heat damage scale by temperature
Drill power now scale by recharging power when out of fuel.
Level
Rock in some location now drop item
Mole is now a bit more deadly
Magma rock now heats up the drill instead of dealing damage
Explosive rock deals more damage
Items
New consumable items
Plastic trash spawn more common.
Forge
Alloy mixing now gives output the same amount as the input (eg. 2 metal gives 2 alloy)
Alloy automation
Mixing same ore will return the ore instead of slag.
You now cant put ore in the filled alloy slot.
Forge now hide undiscovered recipe
Hold shift while targeting forge to invert all other recipe.
Workshop
New category for food
Recipe and product amount adjustment
Contract
Research
Adjust price, rearrange some research order.
Option to show every research
Auction
Auction now cut buyer's premium and tax instead of fixed price.
2 new auction cards to reduce buyer's premium.
Museum
Greenhouse
Add 4 new plants (for hamburger making)
Harvesting tulip now gives tulips.
Recycle
Revamped recycle system with multiple bins, filter
Burger stand
Yeah right! Now you can open a hamburger stand right in Drillionaire.
New tool: knife
New drill part: burger trinket, allowing burger ingredient to spawn underground
Ice city
Located at the sand land, make shaved ice, ice cream and serve to customers
Achievement
Add achievement reward bubble
Achievement for buying a greenhouse, burger stand
Add achievement for drill speed, item boost
Statistic
Reincarnation
Reincarnating with drillioncoin now increase starting money.
Increase drillioncoin gain from money.
Drillioncoin spawn until you collect it instead of once per round.
Bug & Misc.
Add option to disable dialog music (may improve performance in browser)
Research, museum and reincarnate bonus now display on the related dialog.
Switch dialog page using number key.
Notification when new building unlocked.
Airplane ticket is now unsellable.
Fix market selling price not include bonuses.
Fix forge not saving material.
Fix employee bonus not apply.
Fix the ability to fire employee when these are 0 employees.
Fix reincarnate bonus affect all save files.
Fix upload, download save in html version.
Fix drillioncoin not saving.
What's next for Drillionaire
There're 2 things I want to say about the future of Drillionaire, the first, as some of you may know, I'm doing internship for 2 months (until August). So I will have less time to make game in general.
The second thing is that I'm thinking about making a new game. Working on Drillionaire is a very fun experience, and that's why I keep adding stuff to it (like burger stand, for example). But I realized that if I want to work on a new game mechanic, it's better to put it into a new game completely.
So I "probably" will stop adding new feature to Drillionaire for now. I will still fix bugs and balancing if needed. But I will mainly focus on my internship, and whatever new project I will work next.
So thank you everyone for playing Drillionaire, all bug report is always appreciated. And see you my the next project (or more likely a patch since there're like hundreds new bugs in the latest update).
Files
Drillionaire WIN.zip
39 MB
Jun 08, 2022
Drillionaire.zip
Play in browser
Jun 08, 2022