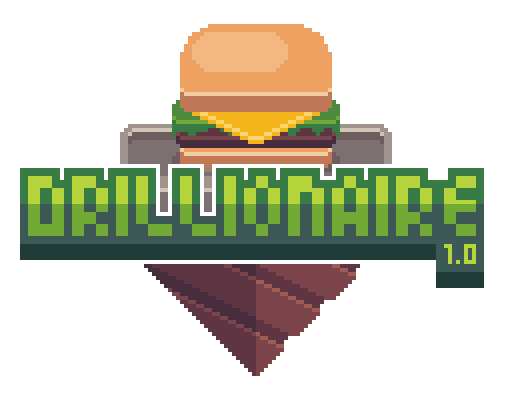 Drillionaire
0.9 Changelog
Day night
Each drilling now contribute to half-day.
Reduce unlock time for each building.
Save
Multiple save files & loading dialog
Alloy mixing
New alloy creation mechanics
New metal, alloy related items
Drill
Add weight and drag attribute that affect fuel consumption and speed
Drill parts need to be connected in order to function.
Item collect highlight
Increase tank fuel capacity, decrease drill fuel usage
Drill BOOST! apply specific item to each drill part to boost its stat for a period of time.
Attribute description
Travelling agent
Unlock using Drillioncoin
Travel to different drilling site to find new ores.
Greenhouse
New research allowing click to plant.
You can now hold to use tool on multiple pots.
Increase herb output
Pot can now be buy in greenhouse
Lapidary
4 new tools
3 new minigames
Research
Future research is now visible
Increase drill research benefits
Remove greenhouse add pot research
Produce price
Add price modulation for produce items.
Contract
Achievement
Achievement now have reward
Casino
Unlock at Sand Land, casino allow you to gamble your money away!
Bug & Misc.
Fix hyperburner speed bug
Fix selling item with multiple uses.
Add hotkey for town buildings
Add sound level adjustment
Fix plant bonus crash
Future update will be smaller, slower because I start doing an internship. Also thank you for huge spike in plays, comments, since the last week.
Files
Drillionaire.zip
Play in browser
May 29, 2022
Drillionaire WIN.zip
37 MB
May 29, 2022