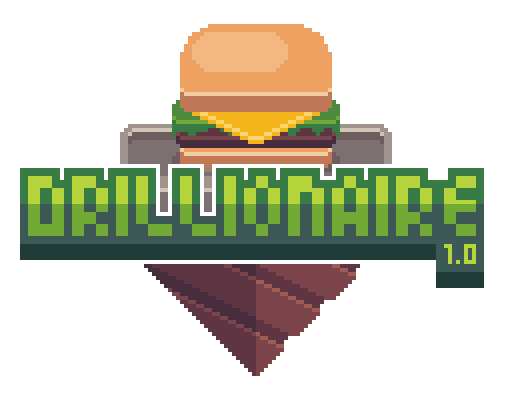 Drillionaire
Version 0.8 add a bunch of new features, balances, and also my thought on this game as a whole.
Greenhouse
Find seed, plant it, and get new bonus, effect on your journey.
4 Type of seeds: Ore, Floral, Mushroom, and Herb. Each has different discovering methods.
19 new plants in total.
3 new tools: Watering can, Scissors, Trovel.
The Temple
Break Drllion block to collect drillioncoin and unlock the temple.
Enter the temple to reincarnate to reset your progress and spend drillioncoin for permanent unlock/ upgrade.
31 perma upgrades available.
Drills!
5 new drill sets unlock by research and temple.
Speed control now use mouse wheel while hovering on the drill.
Some attributes balancing.
Magic
Underground can spawn mana crystal (perma upgrade required)
Collect mana to use spell.
Some drill parts now comes with unique spell, click on the part to activate it.
Underground bonus
Two new collectable bonus you can collect: Ore rush and Ore trail.
Perma unlock required.
Mole attack
Underground spawn different types of mole to attack your drill.
Use item or spell to 'chase it away'
Revamped item system
Some item now have capacity value.
Change some crafting recipe.
New item indexing system, may cause conflict with old save.
Quality of life
New scribble text rendering system allow for FANCIER text.
Market dialog have more data.
New sound for some UI element.
You can now use item in your inventory for contract.
Load file fail detection and roll back.
Manual save button in setting.
The future of Drillionaire
The response I got from this game is AMAZING. The game is still being play every day and I found myself enjoy adding new feature for it too.
So I think I might treat this game as a long term project where I come in and add new random minigame here and there. I will still make new game of course, this just mean this game will get new update for a bit longer."
Files
Drillionaire WIN.zip
12 MB
May 15, 2022
Drillionaire.zip
Play in browser
May 15, 2022