Pixel Composer
Pixel Composer v1.0.0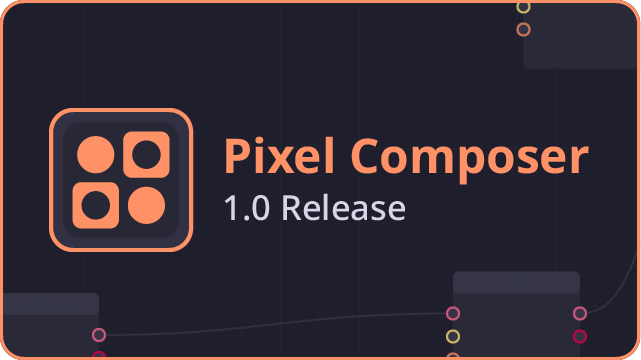 After a year and a half, the first "full" version of Pixel Composer is here! A non-destructive, node-based image VFX editor. This update proper UI scaling, customization, improved node, and bug fixes.
Also noted that all the previous "betas" are still free to download and use without any limit. Steam release will comes shortly as well (once I have enough money to pay platform fee).
General
Better UI scaling.
Double click now use delta time unit.
Change default font to NotoSans.
UI graphic is now load externally.
Improve undo redo system.
Enum button now collapse to scroll menu when no space.
Partial renderer system for better real-time editing performance.
Improve text typing performance allow for much faster type.
Duplicate nodes and connections with Ctrl+D.
[Rotator range] Hold alt to move both handle in opposite direction.
[Animation] Used delta time for animation.
[Color picker] Add value based selector.
[Palette editor] More color sorting modes.
[Array editor] Array rearrange update in real time.
Collections & Presets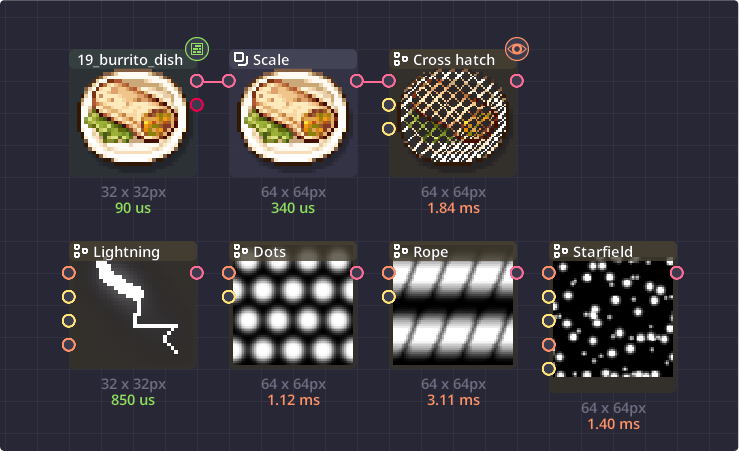 Assets by: https://ghostpixxells.itch.io/pixelfood
Update default collections to the latest version.
[Preset] New per-node preset.
[3D] New extrude collection.
[Filter] New crosshatch filter.
[Generator] New dot, weave pattern, starfield generator.
[Particle] New rain effect.
Panels
[Graph] Setting for graph grid color.
[Preview] Tiled preview.
[Inspector] Right click on group label to expand/collapse all.
[Inspector] Search filter.
[Animation] Animation length handle, hold ctrl to stretch all keyframes.
[Animation] Node rearrange in animation panel.
[Animation] Option to hide, fade node when not in current context.
[Notification] Ability to right click to copy notification message.
Nodes
New nodes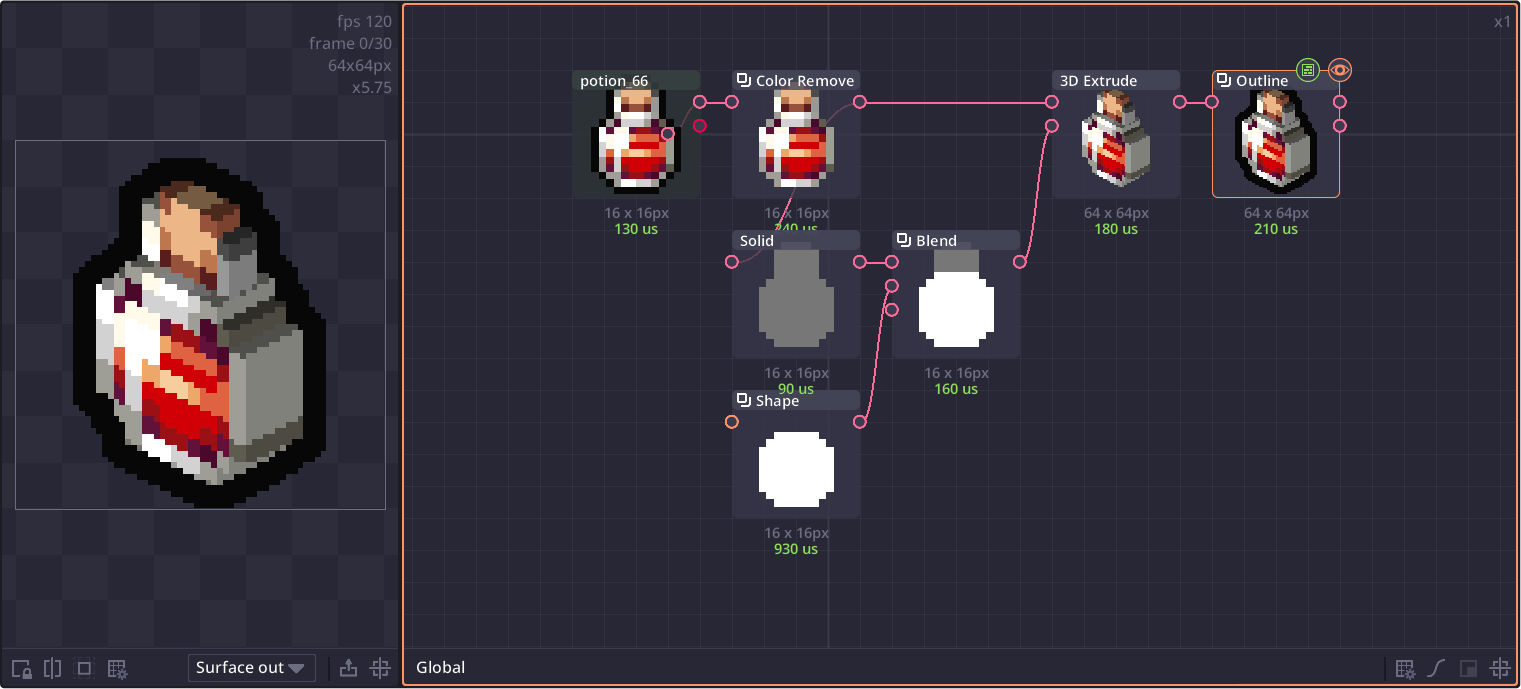 Assets by: https://merchant-shade.itch.io/16x16-mixed-rpg-icons
Extrude node for creating 3D object from 2D sprite.
Skew node.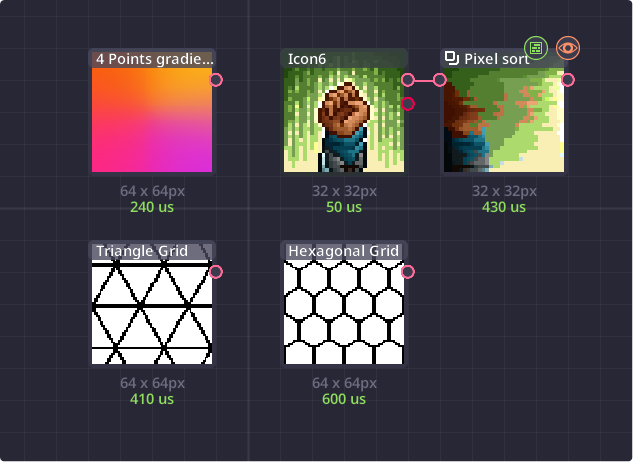 Assets by: https://free-game-assets.itch.io/free-paladin-pixel-art-skill-icons
4 points gradient node.

Triangle, hexagonal grid generator.

Pixel sort.

Camera node.

Value manipulation nodes.

[2D light] Add invert quadratic attenuation.

[Erode] Option to apply only on color channel.

[Math] Trigonometry function now have option to use degree unit.

[Math] Add operation for string/text operation.

[Particle] Improve caching, looping

[Group] Add button for clearing cache in every child nodes.

[Grey to alpha] Option to keep original color.

[Mesh wrap] Sample now control the amount of cell instead of cell size.

[Export] Option to make node auto execute.

[Path] Circle, rectangle path tools.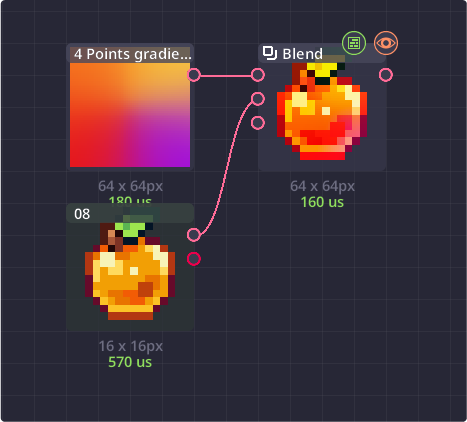 Assets by: https://dantepixels.itch.io/small-fruits-asset-16x16
[Blend] New overlay blending mode.
[Shape] Option for render height as grey scale.
[Stripe] Stripe blending now use smoother sin wave.
[Wiggle] Improve preview performance.
[Line] New width over length properties.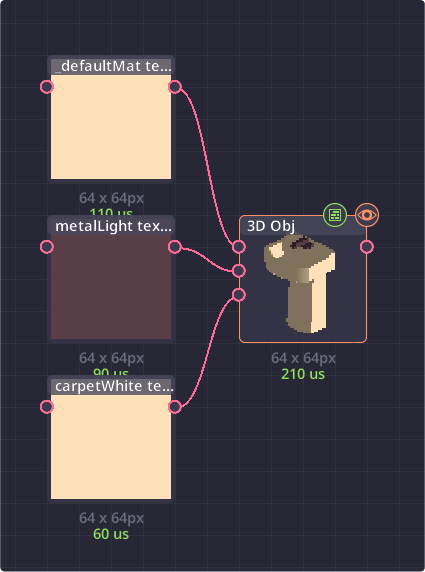 Assets by: Kenny
[3D] Local scale attribute, light setting.
[3D obj] Auto import MTL material.
[Loop] Loop comes with input and output by default.
[Grid] Render tile as height.
[Anisotropic noise] Rotation attribute.
[Draw text] Persistence font folder.
VFX group
VFX node allow creation of complex particles effects.
7 particle effects: Accelerate, Attract, Destroy, Repel, Turbulence, Vortex, and Wind.
Particle trigger: On create, On death, Step.
Feedback group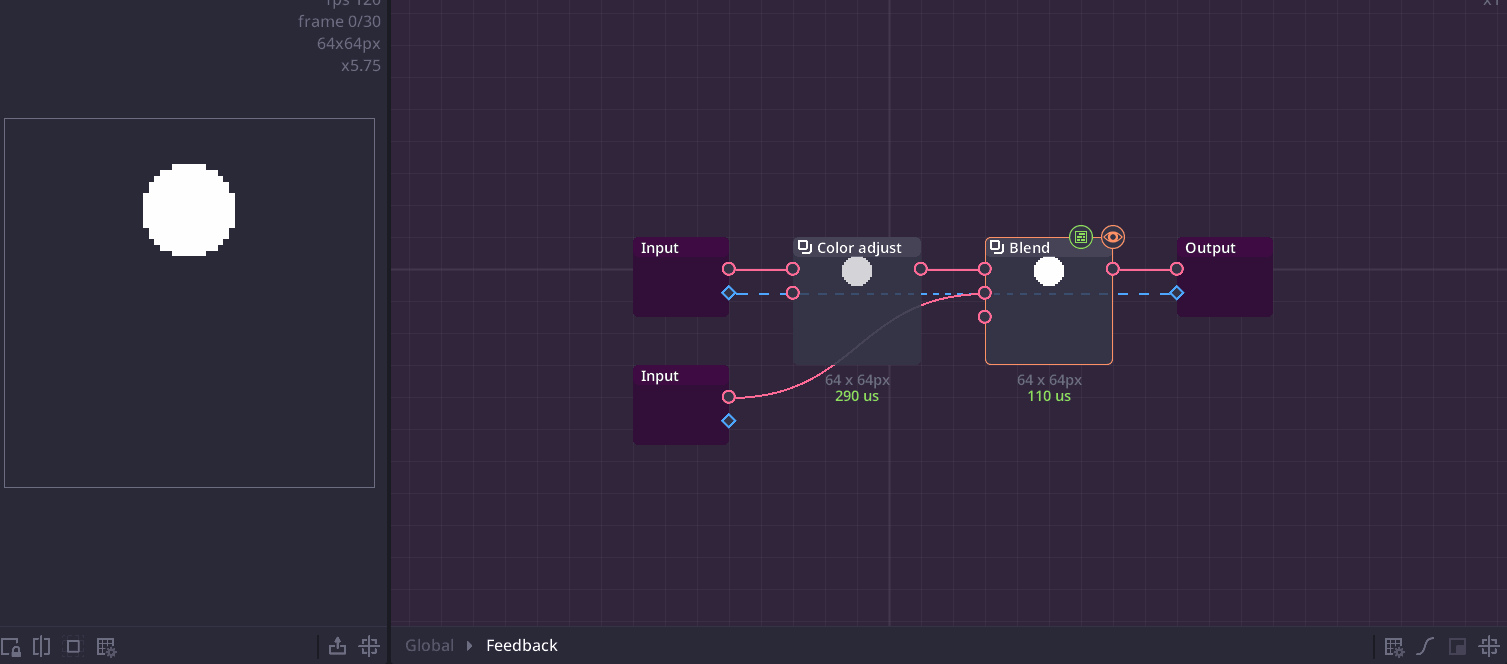 Feedback group allow data from the previous frame to be use in the current frame.
Bug
Reduce video memory usage during animation.
Fix appending node sometime create keyframe longer than animation length.
Fix low performance after timeline scrubbing.
Fix panel occlusion.
Fix cache not loading properly.
Fix collection output not render properly.
Fix loading, appending node with wrapped transform taking longer than usual.
Fix crash when opening from window explorer.
[Animation panel] Content not resizing.
[Animation panel] Fix display overlapping.
[Animation panel] Fix timeline scrubbing bug.
[Inspector panel] Spacing bug in some widget.
[Path] Adding anchor now focus on the right control point.
[Gradient] Fix problems with gradient saving.
[Render sprite sheet] Fix output always render as array.
[Trail] Fix rendering issues.
[Math] Divided by zero now return zero instead of NaN.
[Line] Fix rendering issues.
[Close dialog] Canceling save dialog now won't close the program.