Pixel Composer
This update log is a combination of previous beta logs since the lastest stable update.
Add surface format compatibility check on start.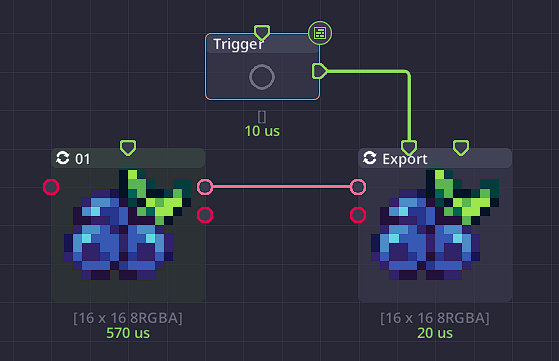 New input for triggering node execution.
New trigger data type.

New trigger, boolean to trigger node.

Unsupported surface format now grayed out instead of removed.
Itch version now won't open Steam on launch.
Add scroll speed in preference.
Interface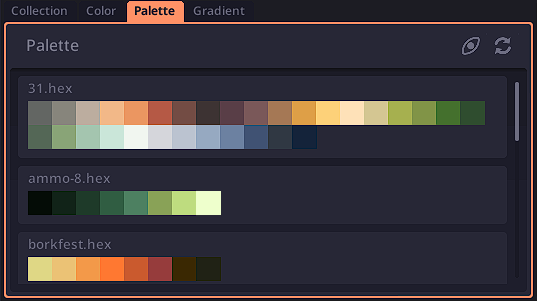 Tabbed panel.
New color, palette, and gradient panel.
Autosave only happens on a modified project.
Improved data drag-drop system.

Drag color, a palette from panel to node/inspector to set value.
Drag surface from asset tab in collection panel to inspector to set value.
Drag color, and palette to graph to create corresponding nodes.
Drag almost every value type to the graph panel to create a new node. Hold shift to connect to the previous node.

Tools and widgets color is now affected by accent color setting.
Reduce UI frame rate to 1 when minimized.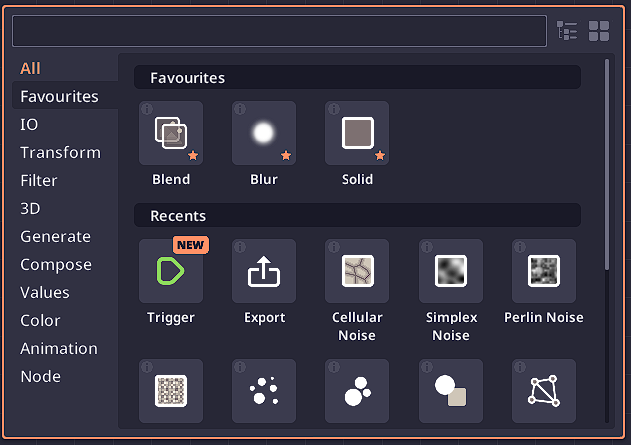 [Add node] Add a recent section to the favorite page.
[Add node] Add ability to favorite node and favorite tab.
[Add node] Type an equal sign followed by an equation to create an equation node with the corresponding equation variables.
[Animation panel] Now show the node's full name ("[type] name").
[Animation panel] Timeline got extra guidelines.
[Animation panel] Zooming timeline now focuses on mouse position.
[Animation panel] Add button to toggle between full node name and node type.
[Global variable] New panel for managing global variables.
[Graph panel] Add more zoom levels.
[Graph panel] Rearrange right-click menu, add "open group in new tab" and "send to new inspector".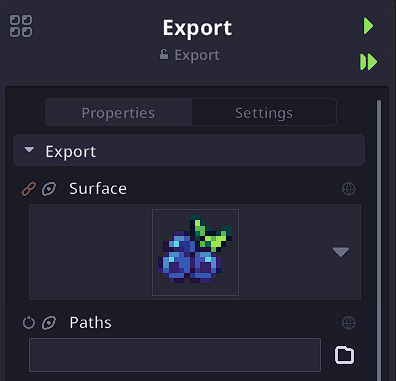 [Inspector] Add a setting tab for access and modify node-specific settings.
[Inspector] Add button to pop out a global variable to its own panel.
[Scroll menu] Add the ability to search menu content.
[Workspace] Add a button for saving the current workspace.
[Workspace] Add right-click menu for the set, replace, and delete workspaces.
Nodes
Introducing StrandSim, a hair/fur simulation system.

New StrandSim effect group
Strand create, create hair from the point, path, mesh
Strand renderer
Strand force, gravity, modifiers, collision.
Strand can also be cast directly to path, allowing for spawning hair on hair, line drawing, etc.

New mesh data type.

Mesh from path node
Mesh transform node

Color depth setting is now available in some nodes.

7 color depths (4/8/16/32 RGBA, 8/16/32 Greyscale)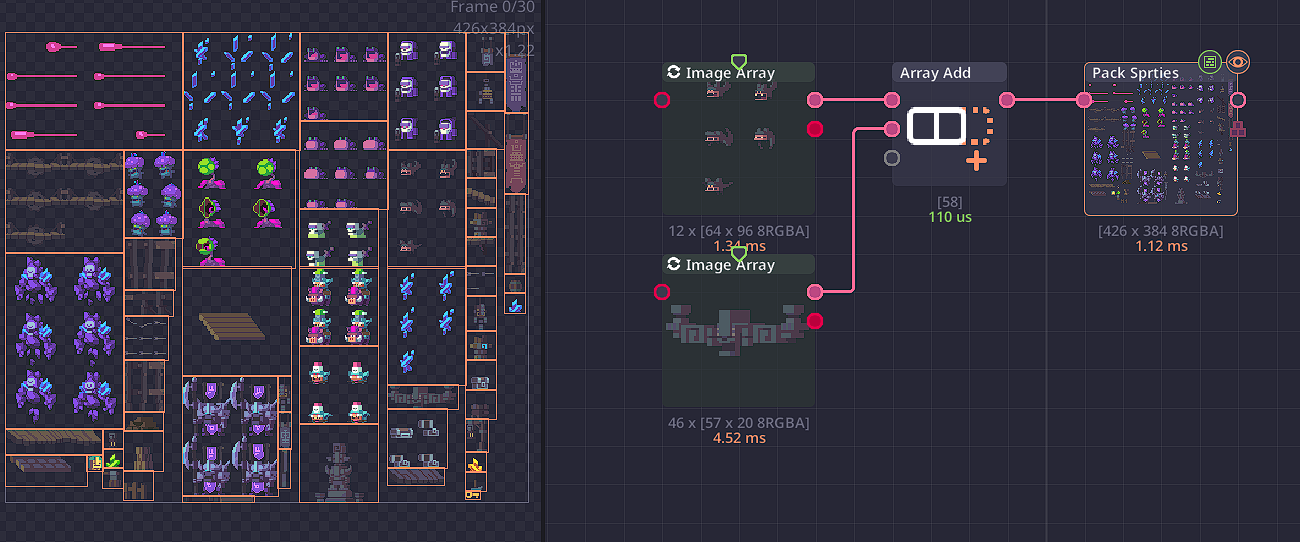 New pack sprites nodes. Pack an array of different-sized images using different algorithms.
New mixed color node.
New array filter group.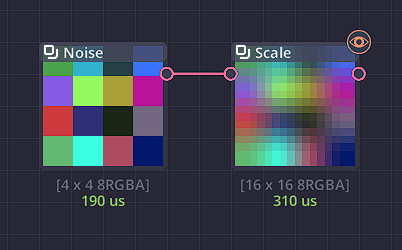 Add texture interpolation mode (bilinear, bicubic, radSin) for several nodes.

Transform
Scale
Composite
Dilate
Displace
Texture remap
Twirl
9-Slice
Polar coordinate
Skew
Warp
Warp area
Warp mesh

Oversample property moved to setting page.
Vector values can now be separated to animate each value independently.
Add regular expression nodes
New base conversion node.
New path anchor node.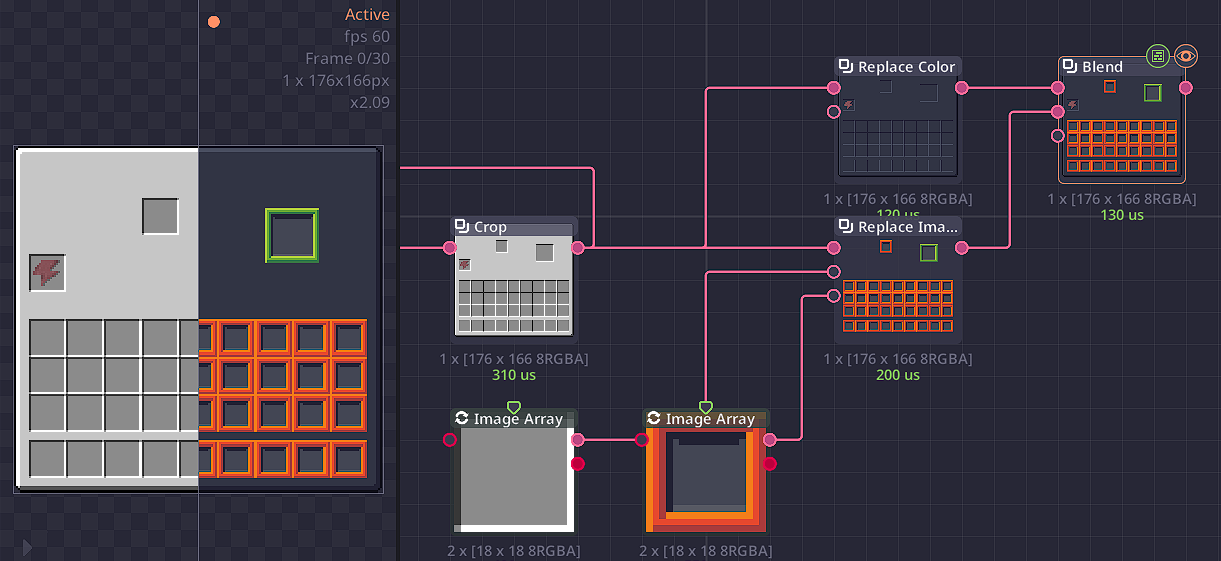 New image replace node.

Node preview status is now saved.

[Array add] Add option to spread array.

[Array get, set, insert] Add ability to set negative index to get/set member from the last value.

[Array processor] Array processing type moved to node setting.

[Array, Array add, insert, delete] Add array spreading option.

[Ase File In] Clicking on the current tag now clears the current tag.

[Ase File In] Current tag value is now exposed in the inspector.

[Bevel] Add shift control gizmo in the preview panel.

[Bevel] Shifting property now uses a pixel unit.

[Collection] Add a separate warning when loading a collection made in the newer version.

[Color data] Add an option to disable normalization.

[Crop content] Add post-crop padding property.
[De-corner] Improve corner detection algorithm.
[Export] Improve image sequence export speed.
[Flood fill] Add max iteration attribute.
[Group input] Add path, particle, rigid body, fluid domain, struct, strand, and mesh data type.
[Group] Separator editor moved to node setting.
[Image animation] Frame duration now accepts float.
[Image splice] Add more controls for output filtering.
[Image, file importers] Rename "Execute Node" action to "Refresh".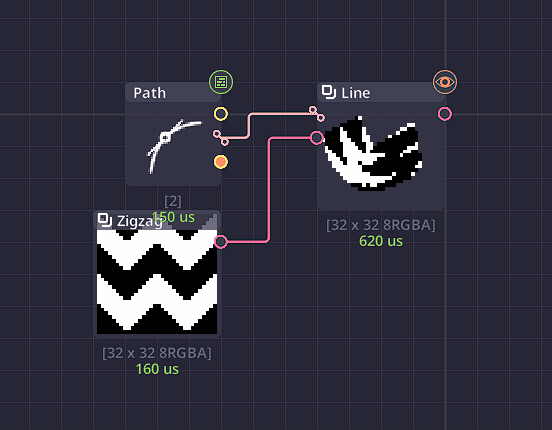 [Line] Add texture property.
[Lua] Executing a node now executes all nodes in the execution chain.
[Mesh warp] Add link strength property.
[Mesh warp] Remove inflate and pinch mode.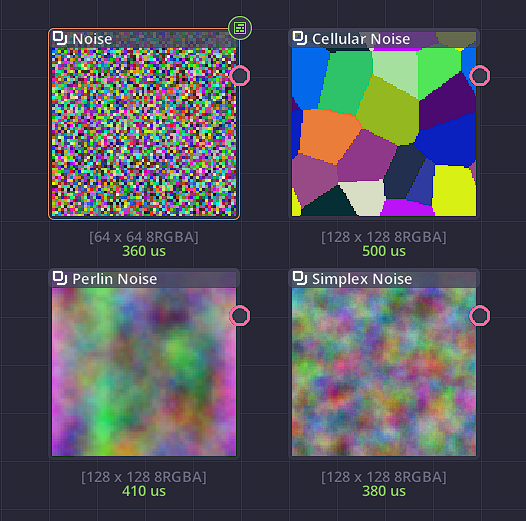 [Noise, Perlin, Simplex] Add colored noise mode.
[Pack sprite] Add spacing option.
[Padding] Add "pad to size" mode with alignment settings.
[Particle, VFX renderer] Add aliasing options.
[Particle] Add gravity direction.
[Particle] Add turning property.
[Particle] Max particle moved to node setting.
[Path blend, transform, wave, builder, L-system] Add boundary data.
[Path] Add anchor array output.
[Path] Add fix length mode.
[Path] Add transform tool.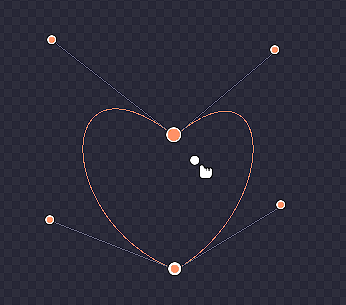 [Path] Hold shift on anchor control to move each control individually.
[Polygon shape] Add mesh and path output.
[Radial blur] Add sample interpolation modes.
[Render Sprite Sheet] Add sprite atlas output.
[Replace image] Add randomized array mode.
[Replace image] Separate threshold to color and pixel.
[Scatter] Add additional blend mode.
[Scatter] Uniform scattering now stretches down to fit the height of the area.
[Separate shape] Add option for auto execute.
[Separate shape] Now use color data when separating shapes as well.
[Shape separator] Maximum shape moved to node setting.
[Splice Sprite Sheet] Add sprite atlas output.
Bug
[Add node] Fix crashes when opening adds node dialog with unsupported nodes in recent, favorite files.
[Animation] fix freeze when adding path anchor keyframe directly from animation or inspector panel.
[Area node] Fix crash when creating node.
[Ase File In] Fix layer generation not working after deleting layer nodes.
[ASE read] Fix palette always shows the same color.
[Color data] Fix the luminance equation.
[Condition] Add string compare mode.
[Filter Array] Fix result has the first member appear twice.
[Image animation] Fix array access error.
[Image array editor] Fix crash when open editor with invalid path.
[Image array] Fix modifying path array not update the output.
[L-system] Fix error when used in path array.
[Line] Fix color over length not working on fixed distance mode.
[Line] Fix mod by zero error when using fix length mode on an empty path.
[Loop Array] Fix node freezing.
[Loop] Fix freezing on update.
[Lua surface, compute] Fix argument does not show up.
[Lua] Fix nodes in the execution chain not rendering every frame.
[Mesh Warp] Fix anchor, always creating new keyframe.
[Mesh warp] Fix bug related to vertex pinning.
[Mesh warp] Fix control point affects vertices multiple times.
[Mesh warp] Fix nodes not loaded properly.
[Nine slice] Fix output surface turns to black.
[Panel] Fix some panels that become unresizable.
[Path plot] Fix "getBoundary" function not found.
[Preview panel] Fix control widget not interactable.
[Preview panel] Fix the error when right-clicking on 16, 32-bit images.
[Preview panel] Fix tool swapping while typing in the textbox.
[Render sprite sheet] Fix animation mode not working if the image is not animating.
[Replace Image] Should work better with transparency.
[Rigidbody object] Selecting the node now shows a wireframe of all meshes in an array.
[Rigidbody render] Fix the object not drawn in the same position as its physical object.
[Rigidbody] Fix object spawner not reset when restart animation.
[Rigidbody] Fix unstable simulation.
[RigidSim, FluidSim, StrandSim] Fix nodes not updating.
[Strand break] Fix value not found.
[Texture remap] Fix the inverted y-axis.
[VFX, particle] Fix nodes not updating.
[Warp] Rework warping algorithm.
Fix adding blend node shortcut build nodes far away from the selecting nodes.
Fix always updated nodes (particle, rigidbody) block rendering path.
Fix button not clickable on dialog panel.
Fix crash when opening add node dialog inside a group after opening add node dialog inside a feedback group.
Fix crash when resizing windows with modified content.
Fix crashes when the program can't find the theme directory.
Fix dragging folder not working.
Fix Explorer always opens the document folder.
Fix export ignores alpha.
Fix group not updating.
Fix node connection after group not updating.
Fix nodes with aliasing option not blending color.
Fix nodes after group not updating.
Fix output visibility value not saved.
Fix scroll box search not setting the right value.
Fix struct store surface as number.
Fix subgraph update not updating properly.
Fix the tunnel not working.
Fix window dragging area decreased in maximize mode.
Files
[Stable] PixelComposer 1.14 itch.zip
55 MB
52 days ago