HeadChef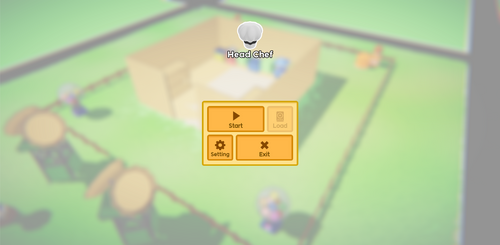 I'm MakhamDev, and welcome to HeadChef, a tower defense - cooking hybrid game. To start the first devlog. I'll explain to you the story of this game, the gameplay and some question you might have.

Cocoa, the (arguably ) world's best chef. Wake up in the kitchen, without any memories about cooking left. She look outside and saw hundreds people walking around mindlessly. Then she look at the wall and see a small note. In that note has some recipes she wrote in the past, and a writing by her friend. That writing told her that some type of virus spread around the world. Everyone who get infected will forget everything about cooking. They'll become hungry and mindless. Her friend called it "the Hunger".
The hunger will try to destroy all cooking knowledge. Recipe book, online server, they'll destroy everything. That make them become stronger and spread virus faster. And by the time she read this, over 95% population have turned to the hunger.
Cocoa need to use her cooking knowledge to protect the "secret recipe". A small book contain the world most important recipe her grandpa gave to her. And that's the beginning, of HeadChef.

Unlike traditional tower defense game. HeadChef does not separate level. Every level are different "sections" which are placed in the same open-world. That's mean you can play multiple level at the same time. All the resource (money, player health) are shared and all the item can be bought at the same supermarket.
HeadChef gameplay is separated into two parts. The cooking part and the tower defense part.
1. Cooking - Cooking in HeadChef is a simple pick and drop style. You can mix, bake, fry, blend, knead, freeze, boil ingredient to create new one. You can unlock new cooking station by complete mission/objective from the secret recipe.
2. Tower defense - Some food can be deploy as a tower. Place a tower to defense against waves of the hunger. Tower can be level up and upgrade using different seasoning. Tower can also be destroy by the hunger as well.

Q: What's the development progress of HeadChef?
MakhamDev: I'd say about 70%. The game still need audio, more enemy variation,bugs fix and some balance. After that the game will be fully release, but more content will still be update over time.
Q: Why do you sell an unfinished game?
MakhamDev: That's a.. umm.... interesting question. I'd say that there's some part of the game that i can't make it myself (audio). That's why I need additional fund to complete this game.
Q: Your English is bad.
MakhamDev: Agreed, but sorry about that. My native language is not English and I'm only a high school student making game solo. I make this game in my free time so the update might not be as fast as you'd expect.

Files
HeadChef_dev_build_54.rar
22 MB
Jul 15, 2018